The Ada Public Library invites you to a special discussion series: "Oklahoma Private Investigators."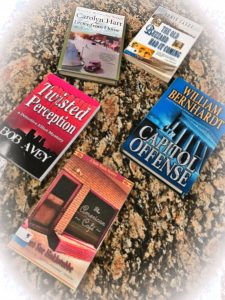 All writers in this series are from Oklahoma and the stories take place in Oklahoma. The best crime and mystery novels are situated in "place." As you will see from these varied plots, mystery and investigation stories find a ready home in Oklahoma and provide a window on the character of the state.
The series will include books by Donis Casey, Carolyn Hart, William Bernhardt, Bob Avery, and Sue Hoklotubbe and will begin February 13. Stop by the Library for more information and to pick up the books!
Meeting dates and titles:
Book 1:  The Old Buzzard Had it Coming,  by Donis Casey –  Feb. 13, 2018 – 5:30 p.m.
Book 2:  Letter from Home, by Carolyn Hart – March 13, 2018 – 5:30 p.m.
Book 3: Capitol Offense, by William Bernhardt – April 10, 2018 – 5:30 p.m.
Book 4: Twisted Perception, by Bob Avery – May 8, 2018 – 5:30 p.m.
Book 5:  The American Cafe', by Sara Sue Hoklotubbe – June 12, 2018 – 5:30 p.m.
Stop by the Library to check out the books and for more information about the series.